Greetings,
I am Grand Admiral Morlish Veed, Leader of the Black Vann Consortium. The Black Vann Consortium is a faction that split from the mainstream Imperial Remenant, and conquered them. Now we have gathered our forces to launch a campaign to take the galaxy.
Here is a list of my forces.
"The Scourge"
The Scourge is my personal flagship, and the greatest ship in all the fleet. Here are her stats.
Here is a basic picture: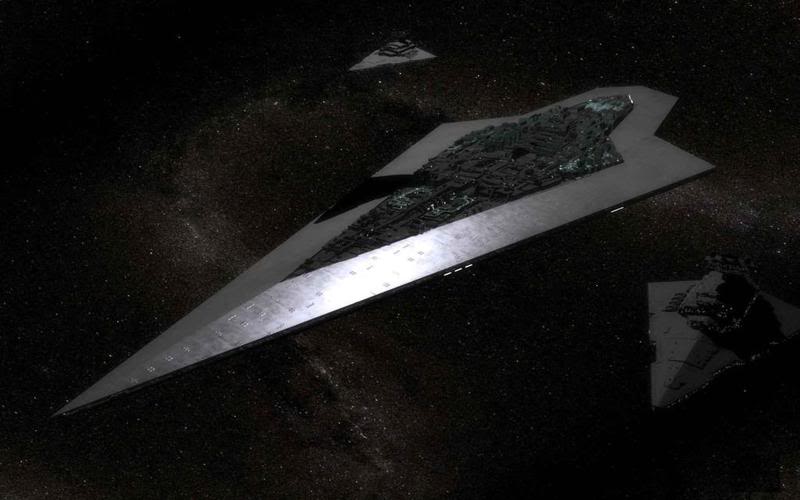 Name: Predator-Class Super Star Dreadnaught "The Scourge"
Faction: Vannite Imperial Faction Only
Length: 70 Km
Building time:60 months
Cost: 500 points
Armament: 24,000 super heavy turbolasers, 26,000 turbolasers, 60 Anti-Planetary grade turbolaser battery pockets (consisting of two batteries each), 6,750 point defence laser cannons, 3,000 heavy ion cannons, 2,500 warhead launchers (capship grade), 2 axial superlasers capable of delivering 400x ISD firepower
Fighter complement: 10,000 space superiority fighters
Consumables: 6 years
Crew: 3,228,441+6 heavy divisions
Role: Battleship, Moving Capital World
Maximum Speed: .4 past lightspeed
The Scourge is the pride of the Vannite fleet, the true symbol of the capital-ship doctrine. It is designed much like the Executor, but with much more power and two superlasers. Like the Executor it can be used as a moving Capital World, and can hold its own against every other ship around. However it is vulnerable to large scale bomber attacks. It also is equipped with many redundant systems making it almost impervious to ion cannon shots. Although it is one of the largest ships around, it still has the speed of an executor-class star dreadnaught.
In a battle with the Red Hand, the Scourge was destroyed.
My other flagship is the "Scourge II" Executor-class Star Dreadnaught.
Name: Executor class Star Dreadnought, the "Scourge II"
Faction: Vannite Imperial only
Length: 21km
Building time: 36 months
Cost: 200 points
Armament: (firepower: 120xISD), 1 axial superlaser capable of delivering 150xISD firepower.
Fighter complement: 200-2,300 fighters
Consumables: 6 years
Crew: 300,230 + 3 divisions of troops
Role: Battleship, moving capital world
The "Scourge II" Executor class Star Dreadnought is the secondary flagship of Morlish Veed, it is also a moving capital world, capable of housing entire sector governments. In Battle, it uses its HTL cannons to bombard medium-sized ships, TL cannons for the light ships, and its superlaser for very large ships. It can also hold its own against many planetary defense systems. It is however vulnerable to close range assaults as it cannot use HTLs at that range and (under very rare circumstances) to concentrated starfighter attacks. It is fast enough to catch up to any fleeing starship.
Here is the list of the rest of my military.
Reserves:
Navy:
3,500 DP20 gunships, 500 Marauder class corvettes(anti-fighter/fast transport/fast light cruiser), 300 Lancer class frigates, 950 Nebulon class (Medical) frigates, 600 Nebulon B2 Frigates (convoy escort/small capital ship), 1000 Carrack-class light cruisers(heavy patrol), 50 Broadside class cruisers(missile carriers, anti-planetary shields), 500 Interdictor cruisers(lightly armed gravity wells), 200 Bv-50 class Star Destroyers (space superiority, strong against fighters), 200 Tector class Star Destroyers (space superiority, no fighters, weak against fighters), 30 Bv-60 class command ships (Capital ship, pretty good against fighters), 500 Doomgiver class assault carriers, 300 Acclamator class assault ships, 400 Imperial Escort carriers, 6 Implacable class battlecruisers, 4 Bv-80 Class Battlecruisers (capital ship), 3 Super class Star Dreadnoughts, 1 Sovereign class Star Dreadnought, 2 Eclipse class II Star Dreadnought;
100,000 T.I.E. Predators, 40,000 T.I.E. Bombers, 90,000 T.I.E. Fighters, 6,000 Scimitar assault bombers.
Planets:
Honoghr: Homeworld
Wayland:Major World
Alzoc III: Major World
Tatooine:Major World
Kessel: Major World
Ylesia: Major World
Gammor: Major World
Bimmsari: Major World
Bothawui: Major World
Tholatin: Major World
Roon: Major World
Fzob: Major World
Zhar: Average World
Rodia: Average World
Ryloth: Average World
Umgal: Average World
If you wish to join my orginization please reply to the message called Black Vann Recruiting which is located in the Mandalore Cantina Forum